City Tour & Boatride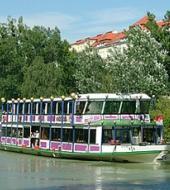 As an ideal supplement to our Historical City Tour we pass the City Park, the Austrian Mint, and the Hundertwasserhaus on the way to the Prater Amusement Park with the Giant Ferris Wheel. We then show you to the Danube Island and the Copa Cagrana, the Danube Park, the Danube Tower and the United Nations headquarters. We drive further, passing houses where Albert Einstein and Beethoven once lived, as well as the Artist´s Colony at the Hohe Warte, with the residences of Alma Mahler-Schindler and Gustav Klimt. Highlights of this tour include the panorama view from the hills of the Vienna Woods over vineyards on to the city and the boat ride on the Danube River (returning on the Danube Canal) to the city centre. When the boat trip is not available: Ride up the Danube Tower.
Departure Point:
Südtiroler Platz - Wiedner Gürtel/Laxenburger Strasse
Shuttle transfer available from State Opera to departure point Südtiroler Platz always 30 min prior respective departure
Cruise Departure Location & Times (daily) : Schwedenplatz: 11h00, 12h30, 14h00, 14h30, 15h30 and 16h00
City Cruise Duration: 2 hours
City Cruise Landing Pier: Wien / Schwedenplatz: 1010 Vienna, Schiffstation Wien / City, Franz Josefs Kai 2 (U1, U4 Schwedenplatz).
Please be at the Landing Pier at least 10mins before departure!
Departure Time: 14:45
Duration: 3.5hrs

Tickets sent by email!
Powered by Ticketbar