Evening Sightseeing Cruise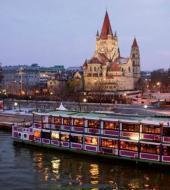 The MS Vindobona and MS Wien depart to linger for an evening round trip. Let the evening fade away as you relax and enjoy the sunset on the spacious sun deck. Starting at the Schwedenplatz pier the boat cruises on the Danube Canal through the city lights of Vienna. Passing the Nussdorf Lock the boat navigates into the River Danube to float back to its starting point.
Departure Point: Schwedenplatz, 1010 Vienna, Schiffstation Wien / City, Franz Josefs Kai 2 (U1, U4 Schwedenplatz)
Departure Time: 19:00 and 22:00
Duration: 2.5hrs

Tickets sent by email!
Powered by Ticketbar