Grand Danube River Cruise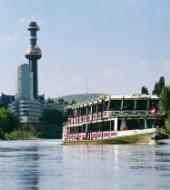 Discover Vienna from the waves, on board our ships: the MS Vindobona (designed by Hundertwasser), MS Wien and MS Schlögen. Relax on board and watch the landscape and sights pass by, including the Danube Tower, Millennium Tower, the Ring Tower, the District Heating Plant Spittelau, the Urania Observatory, and many others. Experience navigating through one or two of the locks as the boat is raised or lowered where the water levels of the Danube differ because of the dams. Choose between the half round trip or the round trip. Taking the ROUTE A you will experience the "green Vienna" with the forests of the Viennese Prater, while taking ROUTE B you will see the new skyline as well as the historical Vienna. Relish in a generous variety of cold and hot dishes, Vienna specialties and pastries, in the board restaurants.
Line A includes: Schwedenplatz - Marina Wien - Reichsbrucke
Line B includes: Reichsbrucke - Schwedenplatz
Departure Locations & Times (daily):
Schwedenplatz: 10h30, 11h30, 14h00 and 15h00
Reichsbrücke: 12h30, 13h30, 16h00 and 17h00
Marina Wien: 12h10, 13h10, 15h40 and 16h40
Duration: 3.5hours
Landing Piers:
Wien / Reichsbrücke: landing pier no. 5 | 1020 Vienna, Schifffahrtszentrum, Handelskai 265 (U1 Vorgartenstraße)
Wien / Schwedenplatz: 1010 Vienna, Schiffstation Wien / City, Franz Josefs Kai 2 (U1, U4 Schwedenplatz)
Marina Wien:1020 Vienna, Yacht harbor, Handelskai 343 (U2 Donaumarina).
Please Note: Children aged 0-10 may travel for free when accompanied by their parents.

Tickets sent by email!
Powered by Ticketbar