Johann Strauss Ball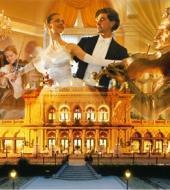 18th of February 2017 in the Kursalon Wien
Built in 1865 - 1867 in Italian renaissance style, the Kursalon Wien is one of the most exclusive buildings in Vienna. The Strauss brothers celebrated their greatest successes in this building. Dances and promenade concerts filled this house with an atmosphere full of waltz enchantment and zest for life. With the Johann Strauss Ball this tradition continues every year.
On 18th of February 2017, the Kursalon Wien will again open its doors for a glittering ball in historical surroundings. Enjoy this unique ball experience in the four magnificent rooms, each filled with the flair of this elegant building. Enjoy the sparkling ball opening to the delightful harmonies of the Viennese waltz. Learn more about the secret of the rhythm of the waltz and other standard dances, which you will learn or perfect under professional guidance. Listen to the melodies of the classical ball orchestra, dancing to your heart's content in one of the magnificent ballrooms, swing to the music of the 70's, 80's, 90's and to the latest hits in the disco or relax in our lounge with a very pleasant atmosphere.
The highlights of the evening:
Splendid ball opening
Classical dance music old and new
Dance workshop under professional guidance
Midnight quadrille
Midnight show
Date: Saturday, 18th of February 2017
Location: Kursalon Wien, Johannesgasse 33, 1010 Wien
Entrance dinner guests: 7.00 pm (punctuality necessary)
Ball opening: 9.00 pm
Quadrill: midnight
Dress code: Evening dress, dinner jacket / tuxedo, or dark suit
Ticket categories:
€137,00 p.p. in the Strauss Hall incl. 3 course menu - Sold out
€120,00 p.p. in the Schubert- or Lehar Hall incl. 3 course menu
€49,00 p.p. without reserved table and seat

Tickets sent by email!
Powered by Ticketbar