Mumok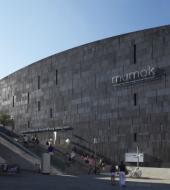 Since its founding, the Mumok (Museum Moderner Kunst Stiftung Ludwig Wien) has set out to preserve, expand and exhibit its collection of 20th and 21st century art while at the same time supporting current and innovative research and museological methods. One of the most important objectives has been and continues to be to convey the historical and theoretical framework of art to the public through fostering discourse in the form of publications and academic events.
With its emphasis on Pop Art and Photorealism from the Austrian Ludwig Foundation and Fluxus and Nouveau Réalisme from the Hahn Collection, with Viennese Actionism, performance art, conceptual art and minimal art along with numerous other movements following in the wake of these traditions ranging from the 1980s to the present, the museum relates directly to the contemporary situation with a unique mixture of critical, analytical and realist artistic perspectives on society and the art institution with special emphasis on works since the 1960s. The acquisition strategy aims at deepening and broadening the focus of the collection both using the institution's own budget while also involving private sponsors, collectors and patrons. The integration of recent positions into the exhibition program serves the strategic expansion and renewal of the collection.
Opening Hours:
Monday: 2.00 p.m.-7.00 p.m.
Tuesday to Sunday: 10.00 a.m.-7.00 p.m.
Thursday: 10.00 a.m.-9.00 p.m.
Location:
MuseumsQuartier,
Museumsplatz 1, A-1070 Wien
Please Note:
Children and Teens under 19 are eligible for free admission

Tickets sent by email!
Powered by Ticketbar