Strauss & Mozart Concert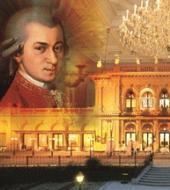 In Kursalon Wien, the very place where Johann Strauss himself used to direct his orchestra from the position of first violin, the absolute essence of Vienna's classical music can once again be heard daily. The Salonorchester Alt Wien, one of the best-known interpreters of classical Viennese music, presents an evening full of Viennese charm with the lilting sound of waltzes, polkas, arias and duets, as well as operetta and piano concerto melodies. Accompanied by excellent opera vocalists and our enchanting ballet soloists, Vienna's classical music reveals itself as a living firework display for all the senses.
Choose from our selection of tickets for the concert, ranging in price to suit your needs:
Category VIP*
Category A
Category B
Category C
*The category VIP contains one VIP seat in the 1st or 2nd row, 1 glass of prosecco in the interval, a Johann Strauss CD and a programme booklet
Beginning of the concert: daily at 8.15 pm
Location:
Kursalon Wien
Johannesgasse 33, 1010 Vienna

Tickets sent by email!
Powered by Ticketbar