Vienna Culture & Danube Tour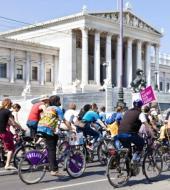 The Culture & Danube bicycle tour is a suitable sightseeing excursion for anyone who wants to see the city in no time. The second largest river in Europe can be found in Vienna and is certainly worth cycling along. Next to that we will visit hotspots that you can not miss in Vienna.
In a group with a maximum of 15 people per guide we cycle in a relaxed pace to, among other sights, the Vienna Opera, Karlsplatz, the Donau and Prater Parc. The tour takes about 3 hours and is highly recommended for city trippers.
Departure Time: 14:30
Departure Location: Schillerplatz
Duration: 3hours

Tickets sent by email!
Powered by Ticketbar