Vienna Night Bike Tour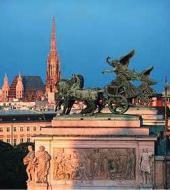 On this special Night bike tour we want to give you a feel for Vienna in the evening. Depending on the time of the year you will enjoy the sunset, the magnificent buildings lit up against the evening sky and be transported back 150 years to how Vienna might have looked like for the Habsburgs as they took their evening carriage rides.
Checking off sights is not what this sightseeing tour is about; Vienna by Night gives you the chance to savor Vienna as you cannot do during the day. Included is a stop at a typical Viennese place for a drink (wine, beer, soft drink etc.) and a traditional snack.
What can you expect:
Available from May 1!
Cycling through the city of opera
See more in less time
Safe, fun and surprising bike tour
Explore Vienna with an English guide
Including the Opera, the Mozart Monument and Heldenplatz
Departure time: 18:30
Departure point: Schillerplatz: crossing Elisabetstrasse with Robert Stolz Platz
Duration: 3 hours
Further information:
Child seats: Yes, up to 20 kg.
Children's bikes: Yes, until 150 cm
Tandems: No
Electric bike: No

Tickets sent by email!
Powered by Ticketbar